The donut stand at the Proper Eats food hall at the Aria Resort and Casino has a secret. Behind a false wall by the cappuccino machine at Easy Donuts is a secret speakeasy operating since February 4. Encased in velvet loveseat plushness, Easy's — designed by Alessandro Munge of Toronto's Studio Munge — is a low-lit bar spotlighting live music from jazz bands and solo musicians employing loop pedals.
Little by little, the secret is getting out.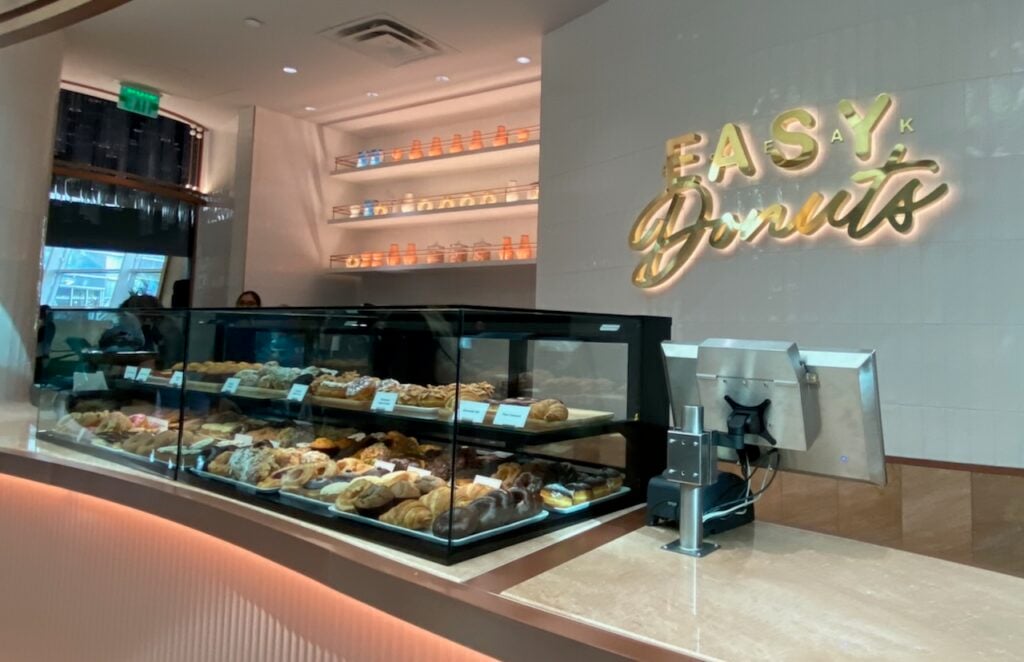 Easy's serves donuts and caviar (starting at $130 for 30 grams of Siberian Supreme to market price for Imperial Golden Osetra Malossol) and outrageous cocktails by mixologist Eric Hobbie. Order the Heart of the Ocean ($50) and you get a day at the beach. Tequila, orgeat, lime, blueberry, and a black sea salt foam combine inside a bowl of San Diego seashells. It's served on a slab of boardwalk with a dry ice fog mixed with coconut oil to smell like suntan lotion.
"What we created with Easy's was an intimate, cool cocktail lounge," Andy Masi, founder and CEO of Clique Hospitality, told thrillist.com.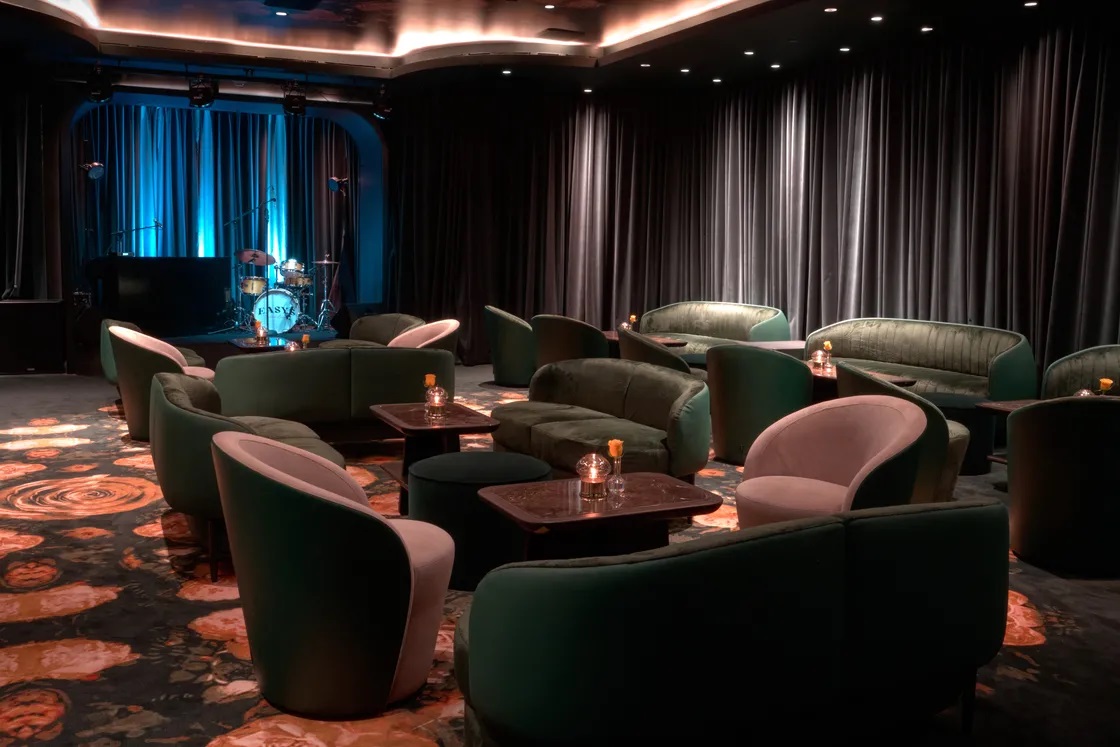 Clique created not only Proper Eats but also the similarly disguised Barbershop Cuts & Cocktails speakeasy at the Cosmopolitan. There, behind the janitor door of a functioning 1950s-syle barbershop, hides a Prohibition-style whiskey bar.
There's no password to get into Easy's. Just look for the velvet rope. But reservations are a good idea, since it seats only 42 with a capacity of 75.
Easy Donuts is a fully functioning eatery, by the way. It features specialty donuts with sprinkles or fruit fillings, croissants, quiches, and sandwiches. But only by day. After 6 p.m., any pastries behind the glass are for display purposes only.
Comings & Goings
The owners of the Splash Fresca Bar — which opened last December at the Flamingo and is soon to debut a second location at the Venetian's Grand Canal Shoppes — are apparently opening an eatery. According to paperwork discovered and reported by the website whatnowvegas.com, Tony Ravelo and his Splash Fresca partner, Matt Pinal, are planning to introduce Michos Tacos at Resorts World. There were two Michos Taco Shops in San Diego until relatively recently. Both closed.
Las Vegas restaurateur Patric Yumul and Michelin-starred Chef Michael Mina are behind a food hall called The Sundry, coming to the upscale UnCommons development in southwest Vegas. Set to open this spring, it will include two full-service restaurants and a dozen other food and drink stations, plus a common kitchen (with chef's table), a central bar, a communal dining area, and outdoor spaces.
One of the two restaurants is Mizunara, a Vegas outpost of chef Shotaro Kamio's Berkeley, Calif. temaki bar, which features traditional and modern sushi hand rolls. The other is B.S. Taqueria from Chef Ray Garcia, who also owns ¡Viva! in Resorts World. Featuring madcap taco combos such as clam and lardo, it's a revival of the renown downtown LA taqueria that Garcia closed in 2019. (Originally, UnCommons planned to host La Mardina, a plant-based taqueria from Michelin-starred chef Dominque Crenn, but those plans fell through.)
The post VEGAS RESTAURANT ROUNDUP: Secret Dining and Drinking on the Strip appeared first on Casino.org.