New York Yankees captain and right fielder Aaron Judge sustained a right hip injury on Wednesday while sliding into third base against the Minnesota Twins.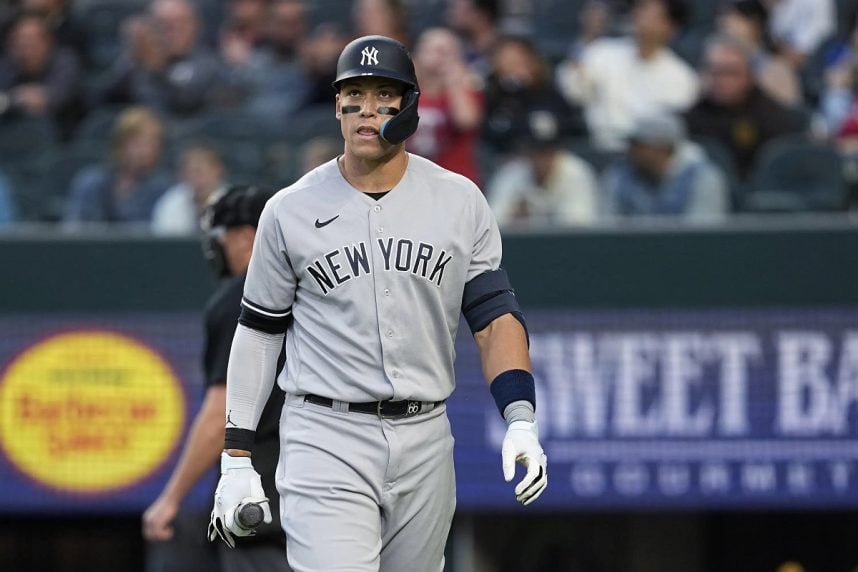 Judge attempted to play through the pain, but pulled himself from a game on Thursday night against the Texas Rangers after the hip injury flared up.
"After that headfirst dive the other night, just kind of whole right side has been a little locked up," Judge told reporters. "It wasn't until the second-to-last swing of that at-bat I felt something grab, and they thought it would kind of best just to shut it down and see how we feel after a couple of days."
Judge underwent an MRI on Friday, but the Yankees were vague about the severity of the injury. For the remainder of this weekend series against the Rangers, Judge will sit out the next two games.
It doesn't seem too serious," manager Aaron Boone said in post-game interview with YES on Friday. "It could be day-to-day, but it could be a short (IL) stint."
If a couple days of rest doesn't help, then the Yankees will send Judge to the IL.
The Yankees entered Spring Training with healthy team, but they've been unlucky since mid-March. Judge joins a long list of other Yankees on the injury list including designated hitter Giancarlo Stanton, center fielder Harrison Bader, left-handed starting pitcher Carlos Rodon, right-handed starter Luis Severino, and righty pitcher Frankie Montas.
Aaron Boone with the latest on Aaron Judge following tonight's loss in Texas. pic.twitter.com/j93TgnkTSm

— YES Network (@YESNetwork) April 29, 2023
https://platform.twitter.com/widgets.js
Judge First Injury After Getting the Bag
Judge set the American League regular season home run record at the end of last season when he smashed 62 home runs. He eclipsed Roger Maris, who hit 61 dingers in 1961 to break Babe Ruth's former record on 60 home runs. Judge currently holds the franchise record for most home runs in a season after crushing 62 long balls in 2022.
Judge missed only five games last season, and he set career marks with 62 home runs and 131 RBI with a slashline of .311/.425/.686. He flirted with free agency, but remained in the Bronx after he signed a nine-year contract worth $360 million.
Thru 26 games this season, Judge is only slashing at .261/.352/.511. He connected on six home runs with only 14 RBI. Those numbers are a little concerning considering how much the Yankees are now paying Judge.
Judge appeared in 156 games as a rookie in 2017, but he had a batch of bad luck with injuries in the next three seasons. He missed 50 games in 2018, missed 60 games in 2019, and missed 32 games in the pandemic-shortened 60-game season in 2020.
A durable Judge was reliable in the last two seasons. He appeared in 148 games in 2021 and appeared in a career-high 158 games in 2022. Judge freaked out his teammates when he removed himself from Thursday's game.
Aaron is about as tough as they come," said teammate DJ LeMahieu. "If he has to come out of the game, it's not good."
The Yankees added outfielder prospect Jake Bauers to their taxi squad. In Triple-A Scranton/Wilkes-Barre, Bauers has a .319 batting average with nine home runs, 20 RBIs in 21 games.
Yankees MLB Futures: Buy the Dip?
The banged-up Yankees are navigating a difficult stretch in their schedule. They're finishing off a run of 16 games in 16 days, before a welcomed day off on Thursday, May 4. That's a short respite before they embark on another rough stretch when they play games for 17 days in a row before a day off on Monday, May 22.
The Yankees are 5-5 in their last ten games, and sunk to fourth place in the AL East. The Tampa Bay Rays have the best record in baseball at 22-5, and they're the only team to pass the 20-win mark. The Rays occupy first place in the AL East with four-game lead over the Baltimore Orioles (17-8), and a 4.5-game lead over the Toronto Blue Jays (17-9). The Yankees (15-12) are now seven games out of first place, and the last-place Boston Red Sox (13-14) are nine games back.
The Rays are +100 odds to win the AL East, according to DraftKings' MLB divisional futures. The Blue Jays are +240 odds, and the Yankees are now +300 odds. During Spring Training, the Yankees were the consensus favorite to win the AL East at +110 odds, followed by the Blue Jays (+215), and Rays (+380).
The Yankees were +750 odds to win the 2023 World Series when the season began, and second on the futures board behind the defending champion Houston Astros at +600. After their recent struggles, the Yankees saw their World Series odds drop to +950. The Bronx Bombers are now fifth on the board, and they trail the Atlanta Braves (+500), Astros (+650), Rays (+800), and the Los Angeles Dodgers (+850).
The Yankees also saw their AL pennant odds drop from +360 in Spring Training to +500 odds right now.
The post New York Yankees Could Send Slugger Aaron Judge to the IL appeared first on Casino.org.