NBA All-Star Weekend is coming up and New Yorkers will have to cross state lines to wager on the 3-point contest that's a big part of All-Star Saturday night.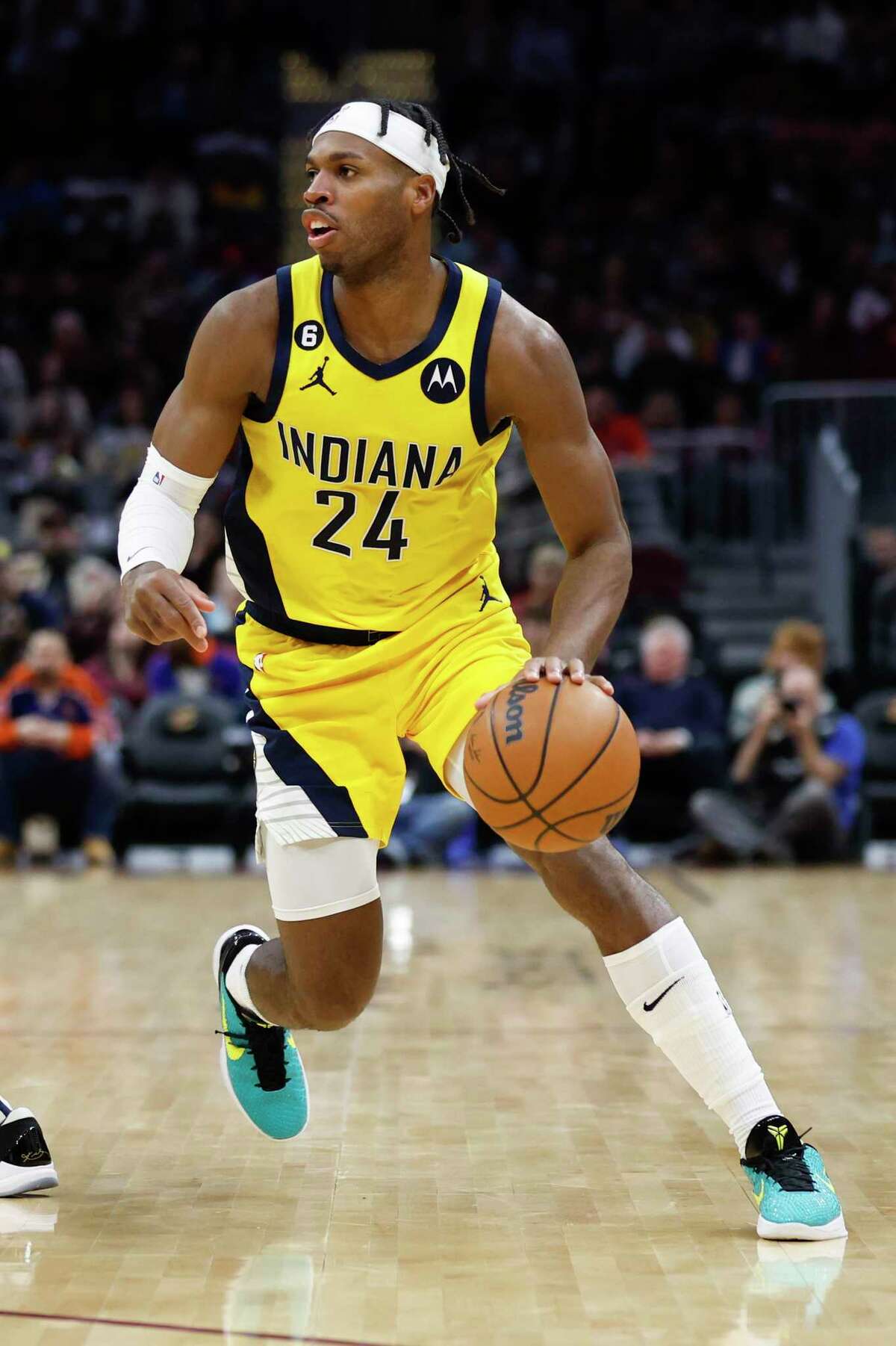 New York's gambling laws prohibit wagering on anything decided by human voters, which means Empire State residents who want to wager on the slam dunk contest will have to cross state lines in order to make their bets. The dunk contest is decided by a pane of judges, this year consisting of Jamal Crawford, Lisa Leslie, Karl Malone, Dominique Wilkins, and Harold Miner, and it seems safe to say that none of them can be bought.
The 3-point shootout, on the other hand. That's decided by one thing: who makes the most shots. Lines in that contest have been posted by FanDuel ahead of all the other sportsbooks. The favorite is Indiana's Buddy Hield, who leads the NBA in 3-pointers made with 224. He is +460.
The 2023 #Starry3PT field! @TyHaliburton22@raf_tyler@buddyhield @KevinHuerter @Dame_Lillard@MarkkanenLauri@AnferneeSimons@jaytatum0 #StateFarmSaturday: Feb. 18, TNT pic.twitter.com/IBPPSJlAq3

— NBA (@NBA) February 15, 2023
https://platform.twitter.com/widgets.js
Hield is followed by Damian Lillard at +480, as the Portland All-Star comes off yet another epic scoring night: 39 points against Washington. The rest of the field consists of Boston's Jayson Tatum (+600), Utah's Lauri Markkanen and Sacramento's Kevin Huerter ( both +650), and Indiana's Tyrese Haliburton and Miami's Tyler Herro at +700.
Herro has been sidelined recently by a left knee contusion and didn't travel with the Heat for Wednesday's game in Brooklyn. The Heat tweeted this morning that he will be competing in the 3-point contest, and FanDuel put him on the board.
Our guy @raf_tyler will be showing off his shooting skills at #NBAAllStar weekend in Utah as the 9th player in HEAT history to take part in the 3-Point contest

Follow the link to see who his competition will be

— Miami HEAT (@MiamiHEAT) February 15, 2023
https://platform.twitter.com/widgets.js
The players ranked numbers 2, 3, and 6 in 3-pointers made, Portland's Anfernee Simons, Golden State's Klay Thompson, and Utah's Donovan Mitchell aren't on the board. In Simons' case, it is because of this injury he sustained Tuesday night. He exited Moda Arena on crutches and it remains to be seen if he will be replaced in the 3-point shootout.
Anfernee Simons injury pic.twitter.com/uFHtsgKGdg

— That's a highlight (@ClipIt_NBA) February 15, 2023
https://platform.twitter.com/widgets.js
How Have the Rules Changed this Year?
Last year's special Mountain Dew ball has been replaced by a special white "Starry" basketball, a nod to the soft drink produced by PepsiCo that has become the official soft drink of the NBA, the WNBA, and NBA G League in North America. Shots made with the white ball will be worth 3 points, and it's a safe bet that someone with an agenda will complain that the ball is white.
Regular orange NBA game balls are worth one point, and the multicolored "money" ball is worth two points. For each rack, the multicolored "money" ball can only be shot after the four orange balls are shot. Two ball pedestals are positioned at "Starry Range" (two deep shot locations between racks 2 and 3, and the other between racks 3 and 4), and each super deep ball pedestal — 29′ 9″ out, 6 feet behind the deepest part of the current 3-point line — holds one special white "Starry" ball.
Got all that? Yes, the rules for these events change year to year, and this year is no different. But a contest is a contest, and we're here to help you make the best wagering choices you can.
Hield won the contest in 2020 and will be looking to join Larry Bird, Craig Hodges, Peja Stojakovic, Mark Price, Jason Kapono, and Steph Curry as a multi-time winner. Hield not only ranks first in 3-pointers made (he has 28 more than Simons), he's 11th in 3-point percentage. Nobody in the field has a higher 3-point percentage and the NBA hasn't invited league leader Isaiah Joe of the Oklahoma City Thunder, who's made 103 of 227 attempts (.454).
Generally, the NBA tabs replacements for injured participants, so stay tuned. There may even be a Net in there by the time everything shakes out.
Yuta Watanabe should be in the 3-Point Contest.
48% from three.
Forget the minimums. pic.twitter.com/T7vvWLvrrm

— No Dunks (@NoDunksInc) February 14, 2023
https://platform.twitter.com/widgets.js
What Will Your Wagering Strategy Be?
Wagering on All-Star weekend events is tricky, especially since the East vs. West format was scrapped. And this year, for the first time, the exact squads won't be selected until 7:30 p.m. Sunday night.
Team LeBron will have the first pick since LeBron James was the overall leading vote-getter in the All-Star balloting process, and Team Giannis will pick second. The captains take turns drafting from the pool of 22 players voted into the All-Star field, first selecting from the eight All-Star starters, then from the 14 All-Star reserves.
That means the gambling window for this game will last only about 15-20 minutes before tipoff. So the action is going to be on the Saturday night events and we advise you to steer clear of the Skills Challenge even though Team Antetokounmpo (brothers Giannis, Thanasis, and Alex) will face two challengers: Team Utah (Walker Kessler, Jordan Clarkson, and Collin Sexton) and Team Rookies (Paolo Banchero, Jaden Idey, and Jabari Smith Jr.). This event takes place while most everyone in the arena is distracted by something else, and wagering on a US Savings Bond is a better bet.
You may want to parlay a 3-point contest winner with the slam dunk contest winner, and the four dunkers this year are Jericho Sims of the Knicks, Trey Murphy III of the Pelicans, Kenyon Martin Jr. of the Rockets, and Mac McClung of the 76ers' G-League affiliate, the Delaware Blue Coats. More on that tomorrow.
For now, Hield has 224 made 3s, and this is his third time in the contest. Markannen is on his home court and is the only other competitor in the top 40 in percentage, ranking 19th. The only other player in the top 50, percentage-wise, is Huerter, who is 45th.
The post NBA 3-Point Shootout Open for Wagering at One NY Sportsbook appeared first on Casino.org.