Massachusetts sports betting begins today at the commonwealth's three commercial casinos — Encore Boston Harbor, MGM Springfield, and Plainridge Park.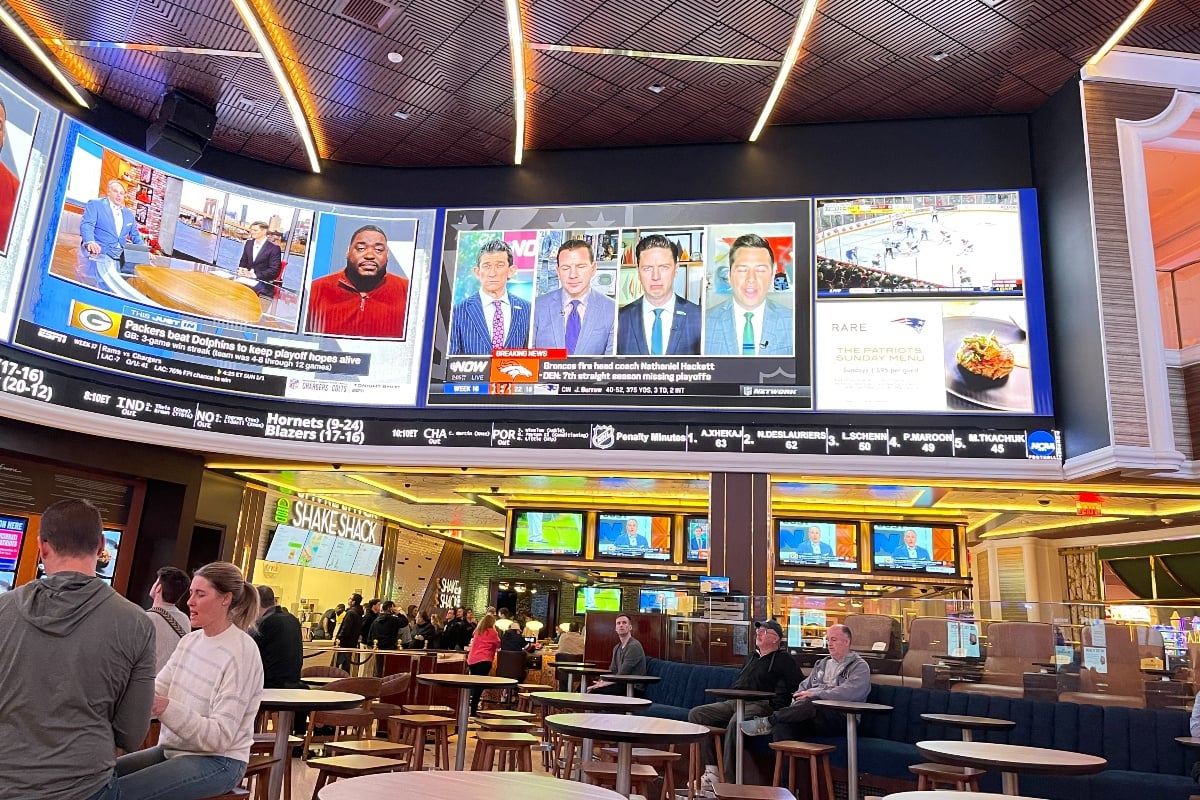 The three casinos have been cleared to open their retail sportsbooks in Everett, Springfield, and Plainville. Online sportsbooks are expected to launch in March.
The in-person casino sportsbooks can start taking bets at 10 am EST. The casinos are hosting first-bet celebrations this morning, with celebrities, rewards members, and lucky guests invited to participate and have the honor of wagering the first legal bets in Massachusetts history.
The WynnBet Sportsbook at Encore, BetMGM Sportsbook at MGM Springfield, and Barstool Sportsbook at Plainridge open just in time for Super Bowl LVII. The big game between the Kansas City Chiefs and Philadelphia Eagles is set for next Sunday, Feb. 12, at State Farm Stadium in Glendale, Az.
State Farm Stadium will be the first Super Bowl host with an on-premise sportsbook. The BetMGM Sportsbook at State Farm Stadium is a 17,000-square-foot facility offering legal betting. The sportsbook is outside of the stadium on the venue's Great Lawn tailgating area.
Sportsbook Rules
The Massachusetts Legislature last year found a bipartisan comprise to bring legal gambling on sports to the commonwealth. Gov. Charlie Baker (R) signed the measure in August.
The state's sports betting bill allows sportsbooks to take bets on most professional sports, including the NFL, MLB, NBA, NHL, PGA Tour, mixed martial arts, racing, boxing, and tennis.
The Massachusetts Gaming Commission (MGC) also approved an array of less marquee professional sports, so long as a governing association sanctions them. Lesser-bet sports allowed for action include badminton, billiards, bowling, field hockey, rugby, volleyball, and water polo. Other sports such as chess and cornhole — as well as the Olympics — will be considered later by the MGC.
College sports betting for games governed by the NCAA is also allowed, but with exceptions. The state's sports betting law sought to protect in-state college athletes by excluding their games from sportsbooks.
The college sports betting law mandates that anytime a college or university that is based in Massachusetts is participating, the game is a prohibited sports betting event. The ban is regardless of whether the school is playing at home in Massachusetts or away in another state.
There is one major exception to the college sports betting rule. When a Massachusetts college is participating in a tournament involving at least four teams, the event is allowed. So, if the University of Massachusetts Minutemen basketball team makes the NCAA March Madness tournament, their games would be available for bettors.
Entertainment Lines Allowed
The MGC took a proactive approach to its sports betting launch by also authorizing non-traditional sporting events and awards shows. Sportsbook operators have sought both in other states where gaming regulators initially prohibited such events.
The MGC will allow sportsbooks to take action on events like the annual July 4 hot dog eating contest on Coney Island that's sanctioned by Major League Eating. Betting on the Academy Awards and certain other entertainment awards shows is also allowed.
In-person sportsbooks will share 15% of their gross proceeds with the state. Online sportsbooks will be taxed higher at 20%.
The post Massachusetts Sports Betting Begins at State's Three Commercial Casinos appeared first on Casino.org.