A Summerlin, Nev. man who previously faced indecent exposure charges has once again been arrested. This time, it's for "dancing in the middle of the street completely naked and exposing his genitals," an eyewitness recently reported to police.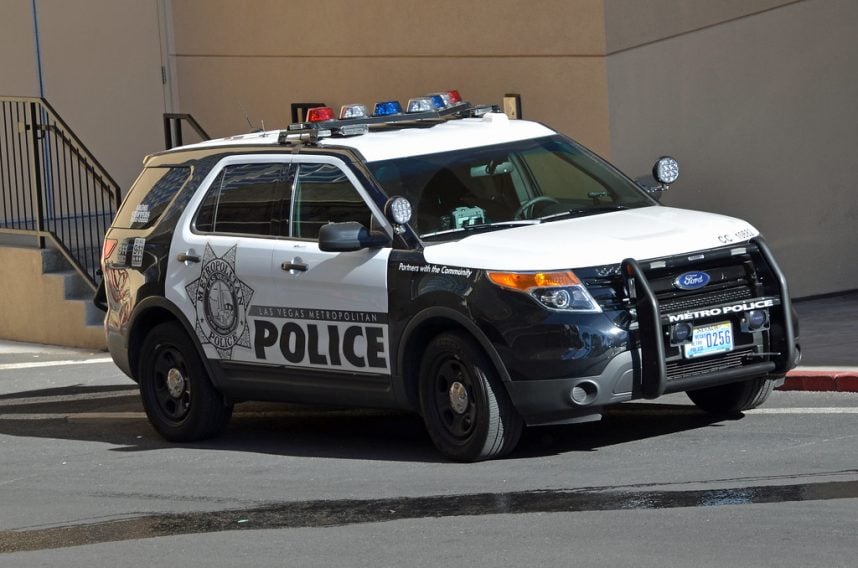 Michael Spangelthal, 40, was spotted by a motorist on Piedmont Valley Avenue, near Far Hills Avenue, without a shred of clothing on, on April 19.
Spangelthal remained outside naked for at least an hour — dancing and sometimes walking in the buff – with the motorist eventually calling authorities.
When Las Vegas Metropolitan Police Department officers (LVMPD) arrived, Spangelthal spotted them and ran into his nearby residence.
Cops tried to get him to come outside but he remained at an upstairs window and allegedly threw rocks and other items on the officers below.
Eventually, police officers were able to apprehend Spangelthal. He was charged with indecent/obscene exposure, battery, and obstructing a public officer, according to Las Vegas TV station KLAS.
He remained in the Clark County Detention Center since his arrest. He was to appear in local court on Tuesday. As of Monday, no bail was set in the case.
Spangelthal was arrested three prior times on similar charges, the Las Vegas Review Journal reported. He allegedly barricaded himself for hours and threw objects at police — in 2016. A year later, he was outside of his house naked and shouted curses, police said. Officers evacuated neighborhood residents from their houses while the commotion continued. In 2019, he was naked outside again and repeatedly threw rocks, police said.
He was convicted of indecent exposure in 2020, according to KLAS. He was given probation for the crime.
A judge once ordered that he get treatment at a psychiatric facility in Sparks, Nev., the Review-Journal reported.
Chasing Horse Trial Date Delayed
The start of Nathan Chasing Horse's jury trial was delayed by a Las Vegas judge earlier this month.
The legal proceeding was to start next Monday in Clark County District Court. But because the defendant's attorney is attempting to get numerous charges dropped, the trial was temporarily halted.
Clark County Public Defender Kristy Holston is trying to get the Nevada Supreme Court to dismiss the pending 18 charges in state court against Chasing Horse, according to Las Vegas TV station KLAS.
If the Nevada high court rejects Holston's arguments, Chasing Horse's case will proceed and he will be assigned a new trial date, Nevada TV station KTNV reported.
Among the current charges against him are sexual assault of a minor, sexual assault, kidnapping, child abuse, and open and gross lewdness. The victims in the cases include Native American girls and women.
He remains in custody at the Clark County Detention Center. His bail was set at $300,000.
He still faces Nevada federal charges and cases in Canada, as well as in Montana.
Chasing Horse was a reputed cult leader who had a role in the "Dances With Wolves" movie.
Victimized Autistic Jewish Boy Gets Attorney
A legal advocacy organization has agreed to represent the Las Vegas teenager who was the victim of an apparent hate crime.
The 17-year-old autistic student — who regularly wore a Jewish head covering called a kippah to Clark High School — was discovered to have had a swastika carved into his back on March 9 — likely at the school.
Swastikas were the symbol used by the Nazi government of Germany before and during World War 2. Six million Jewish civilians and many others were killed at the hands of the Nazis.
The advocacy group representing the student is called The Lawfare Project, Las Vegas TV station KTNV reported. It's a New York-based legal organization that represents victims of civil rights and human rights violations.
"Antisemitic hate is no longer hiding in the shadows and in the darkest corners of the internet," Brooke Goldstein, founder and executive director of the Lawfare Project, was quoted by KTNV.
To attack an autistic child in a public place shows the brazen level of hatred people will display to harm the Jewish community. Our team will work with the victim and his family to ensure that the individual or individuals responsible for this will be held accountable."
The unnamed boy is nonverbal. He was accompanied at school by a service dog. An aide was supposed to remain with him during the school day.
His parents since pulled the boy out of the high school given concerns for his safety.
The incident got national and even international attention. The Clark County School District eventually launched an investigation. As of this week it "found no evidence that would indicate the origin of the injuries," district officials said in a statement KTNV reported.
The FBI has launched its own inquiry.
The post Las Vegas Crime Round Up: Man Allegedly Dances Totally Nude on Local Street, Tosses Rocks at Cops appeared first on Casino.org.