A bipartisan congressional group from California and Nevada asked the Biden administration on Monday to fast-track federal funding for a high-speed railway link from LA to Las Vegas that was first proposed in 2009.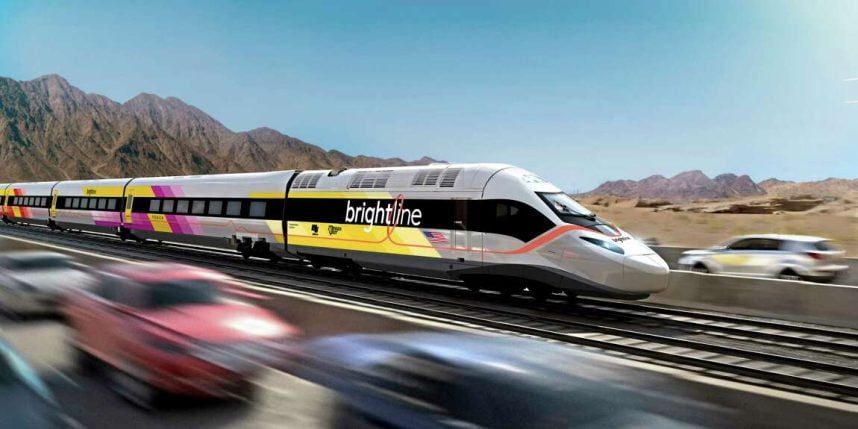 In a letter to US Transportation Secretary Pete Buttigieg, five of Nevada's elected federal lawmakers, as well as four House Members from California, asked for $3.75 billion for the Brightline West project from the Biden-backed federal infrastructure law. The entire project will cost $10 billion, 70% of which will come from private funding, according to Brightline, using a combination of debt and equity.
The letter estimated that the project will create 35,000 union construction jobs as well as 1,000 permanent jobs, and will divert 3 million cars from the congested Interstate 15 "onto a faster, more efficient, zero-emission transportation option" that would stop the belching of 400,000 tons of CO2  into the air every year.
Brightline — which already runs a high-speed rail between Miami and West Palm Beach in Florida — plans to connect Las Vegas with Rancho Cucamonga, Calif., 220 miles southwest, via 200 mph passenger trains that run mainly within the I-15's median. Brightline projects an average travel time of two hours and 15 minutes — half the time the trip currently takes in a car during the average weekend. Each train could transport up to 500 passengers.
California Democratic House members Nanette Barragán, Jimmy Gomez, and John Garamendi signed the letter — as did Republican Jay Obernolte. So did Nevada's senior US Sen. Catherine Cortez Masto, a Democrat, and four House members, including Republican Mark Amodei.
Slow Train Coming
Amtrak passenger service from LA to Las Vegas ended in 1991 with the Desert Wind. That train regularly got stuck behind the increasing number of freight trains serving the growing desert region. Often, that trip took passengers 10 hours, and it feels like this high-speed rail project, first proposed in 2005, is moving with equal sluggishness.
It wasn't until 2009 that the Federal Railroad Administration completed a draft environmental plan for the railway, which was then known as DesertXpress. Brightline acquired the project in 2018.
"After more than a decade of working to find a pathway, Brightline West will be the first true high-speed rail system in America and will serve as the blueprint for how we can connect major city pairs that are too short to fly and too far to drive," read a statement from Brightline CEO Mike Reininger.
A draft environmental assessment for Brightline West was made public in October 2022 and the Federal Railroad Administration is expected to finalize permits in July.
The post High-Speed LA to Vegas Railway Gets Bipartisan Backing appeared first on Casino.org.