A shop in Greater Manchester, England, that was previously the home of a William Hill sportsbook found a new lease on life once the operator moved out. It became an underground farm for marijuana that took police days to dismantle.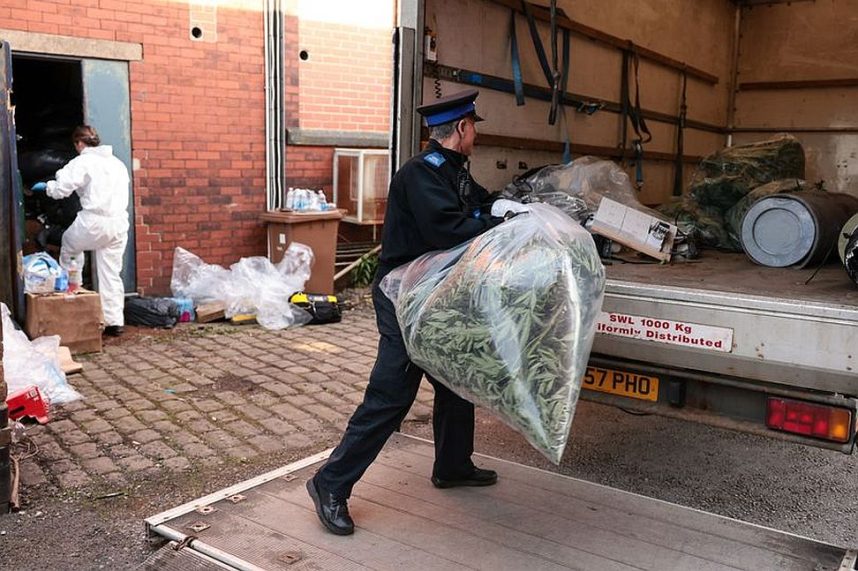 Although the laws are changing, marijuana remains mostly illegal in the UK. While it's possible to consume it medicinally with a prescription, recreational use is still forbidden.
That doesn't stop it from being wildly popular, though. While the medical marijuana market is approaching a value of £801.86 million (US$1 billion), the illegal market is still worth about £2 billion (US$2.5 billion), according to government studies.
Cashing In on Cash Crops
The Manchester Evening News reported on the bust, although it still needs the police to fill in a few informational gaps. It isn't clear how the pot farm was uncovered, although the criminals didn't do themselves any favors.
A witness confirmed to the media outlet that the shop was drawing its electricity from a lamp post. That would have undoubtedly drawn unwanted attention to the operation. An abnormal power draw in the area would have also raised a red flag. Electricity specialists had to assist with the raid to ensure there weren't any safety issues.
The surprise visit by the police began last Friday and, as of Wednesday, officers were still bagging and tagging the evidence. One truck after another was allegedly filled with bags of marijuana and hauled away for classification, and to help build a case against the cannabis entrepreneurs.
Once it's served its purpose, the marijuana will be burned, destroying all traces of its existence. Before that, though, investigators want to figure out everyone behind the operation and have them answer for the crimes.
So far, according to the media outlet, authorities aren't saying whether they've made any arrests. Attempts to find out more details from the local police force have been futile, although the information will eventually come to light.
Castle Converts to Cannabis Crop
Illegal marijuana crops occur can be found anywhere and can be easily hidden from sight. The plant is hearty enough that it can withstand different conditions, and flexible enough that it can adapt to its environment. As long as the core ingredients are available, anyone can get started as a marijuana farmer. Proper soil, proper lighting, and proper humidity are essentially all that is needed.
Even castles make great places to grow marijuana. Two years ago, police in Somerset uncovered a cannabis farm at a 17th-century castle that was a regular spot for high-end weddings. It isn't clear if any of the cannabis was used as gifts for the wedding parties.
That same year, another cannabis farm came to an end in London. Located in a commercial property, it was just down the street from the Bank of England, which didn't go over well with the financial institution. That bust included 826 marijuana plants, according to National Public Radio, and led to two arrests.
In 2019, London police also stripped an illegal cannabis farm out of a 120-year-old theater. They arrested four people in that case, which began only after an anonymous tip phoned in a disturbance at the theater. If they had avoided drawing attention to themselves, the cannabis entrepreneurs may have been able to continue their endeavor.
The post Former William Hill Betting Shop in England Becomes Illegal Marijuana Farm appeared first on Casino.org.