Don't expect to see FanDuel go after partnerships with colleges as long as Amy Howe leads the US sports betting giant. That was one of the points the company's CEO brought up Wednesday during a wide-ranging keynote conversation at SBC Summit North America in Secaucus, NJ.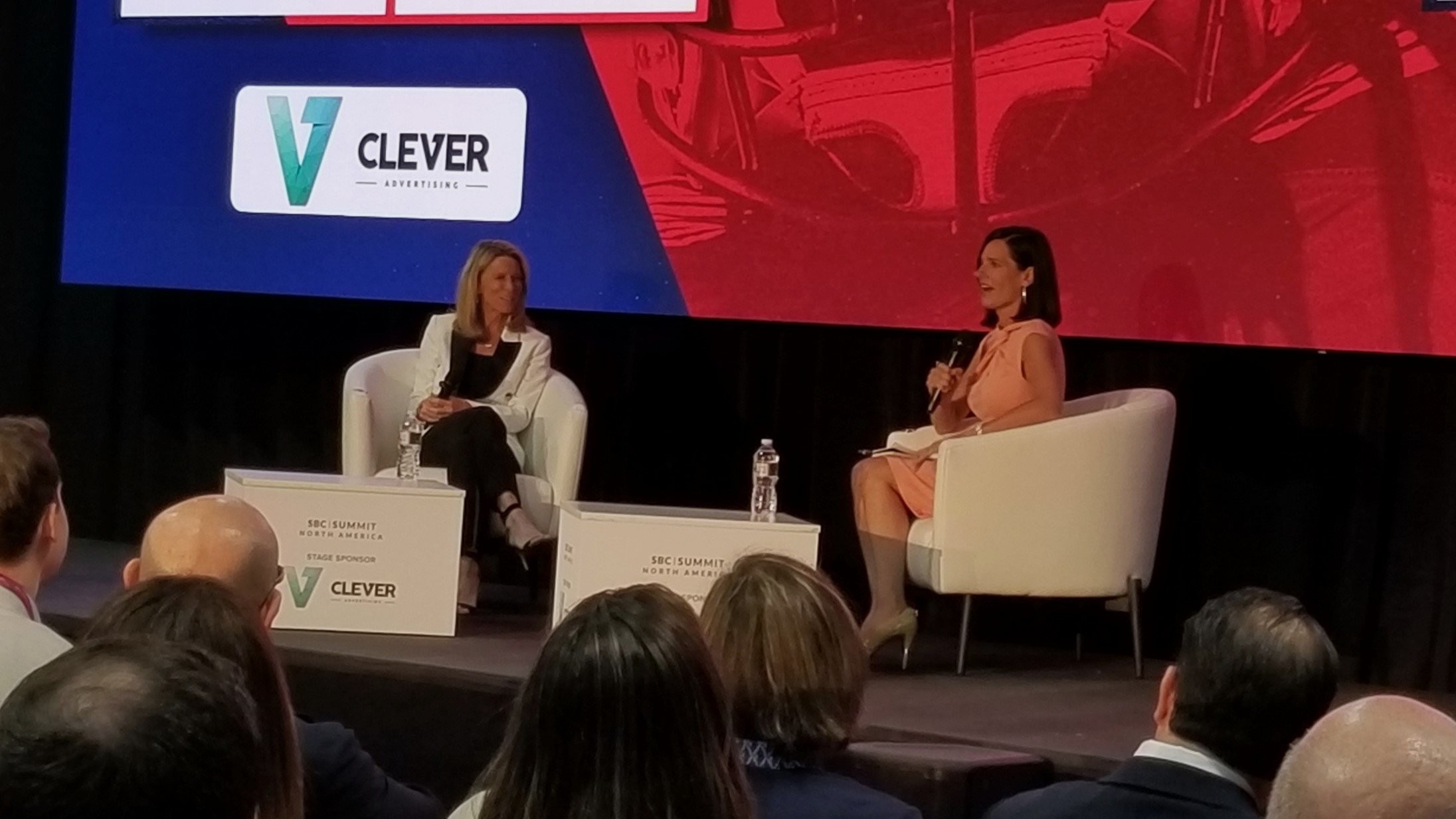 Howe, who was interviewed by CNBC Reporter/Anchor Contessa Brewer, touched on several key topics during her 40-minute segment, including the economic outlook on gaming, competing with offshore sportsbooks, and working to prevent underage betting.
It was the latter topic that led to Howe saying FanDuel would not look for sports betting partnerships with college athletics departments. It's one thing to take bets on a college football or basketball game, she said. However, it's a more "nuanced" answer when it comes to partnering with a university as it does with such teams as the New York Yankees.
I don't want the FanDuel name showing up on a jersey or plastered all over a college stadium," Howe said. "So, we're going to tread much more carefully because you're targeting an audience that is, by definition, a lot of those consumers are underage."
Not all operators have taken that position. PointsBet has an official relationship with the University of Colorado, and Caesars Sportsbook has a partnership with LSU.
Underage betting is becoming a key issue in the campaigns to legalize sports betting in California. FanDuel is working with six other national sports betting operators to spend up to $100 million to get voters to back a constitutional amendment on the Nov. 8 ballot to allow online betting statewide.
Tribal gaming entities in California, who are pushing a measure to allow sportsbooks in their casinos, oppose the online measure. They argue that allowing online betting increases the risk of underage wagering.
The former president and CEO of Ticketmaster joined FanDuel as its president in February 2021. She became the interim CEO after Matt King departed from that position in May 2021, and last October, Howe had the interim tag removed from her title.
Offshore Sports Betting Remark Questioned
Howe also addressed the challenges commercially licensed US sportsbooks face while competing against offshore operators that still cater to American markets, and in doing so, made a statement that raised some eyebrows among sports bettors.
Her comments echoed some of the issues more than two dozen members of Congress raised in a letter to the US Department of Justice two weeks ago when they called for Attorney General Merrick Garland and the DOJ to take a harder stand against the offshore operators.
Offshore operators are not paying taxes in US jurisdictions, nor are they funding responsible gaming initiatives, Howe said. In addition, data shows that "25% of those consumers will never be paid out" by offshore books.
As news of that comment hit Twitter, some very high-profile bettors reacted with skepticism over that claim.
"It's probably good for everyone's sake I wasn't present at that panel," tweeted professional sports bettor and podcast host Spanky.
Jack Andrews, a co-founder of Unabated Sports, cited his 20 years of industry experience in saying the "ceiling" for unpaid bettors is 1%.
When asked for comment after Howe's presentation, a FanDuel spokesperson told Casino.org that Howe was likely sourcing a report from the American Gaming Association (AGA) on illegal gaming.
A check of AGA reports on offshore gaming did not immediately discover any reporting of such a figure. However, a 2020 survey by Heart + Mind Strategies for the industry trade group found that 25% would shift to the legal market because they would have confidence in collecting their winnings.
Economy an Issue, But Howe Says FanDuel Remain Strong
The US gaming industry has been on a long winning streak as the country has emerged from the COVID-19 pandemic. However, Howe said it would be "disingenuous" to say gaming executives aren't concerned, especially with inflation at levels not seen since the 1980s and fears of a recession looming.
While Howe said "the fundamentals of our business" remain sound, the economic uncertainty is already starting to affect some parts of the industry. Namely, it has cooled off merger and acquisition activity.
There still will come a time when the US sports betting industry contracts, Howe said. There won't be 12, 15, or more operators vying for bettors' dollars.
It's just a matter of when.
"I think the question is when you look at some of the operators right now, to what degree are they going to need financial backing or capital to get them through this period of time," she said. "I can say for us right now, we're in a very good position."
The post FanDuel CEO Amy Howe Discusses Underage Betting, Offshore Operators at SBC appeared first on Casino.org.