It only took $530 and some extra spending money for poker player Razvan Belea to become a millionaire and make history. He shipped the PokerStars European Poker Tour (EPT) Main Event for €1,170,000 (US$1.23 million) and became the first Romanian to win an EPT main event in the process.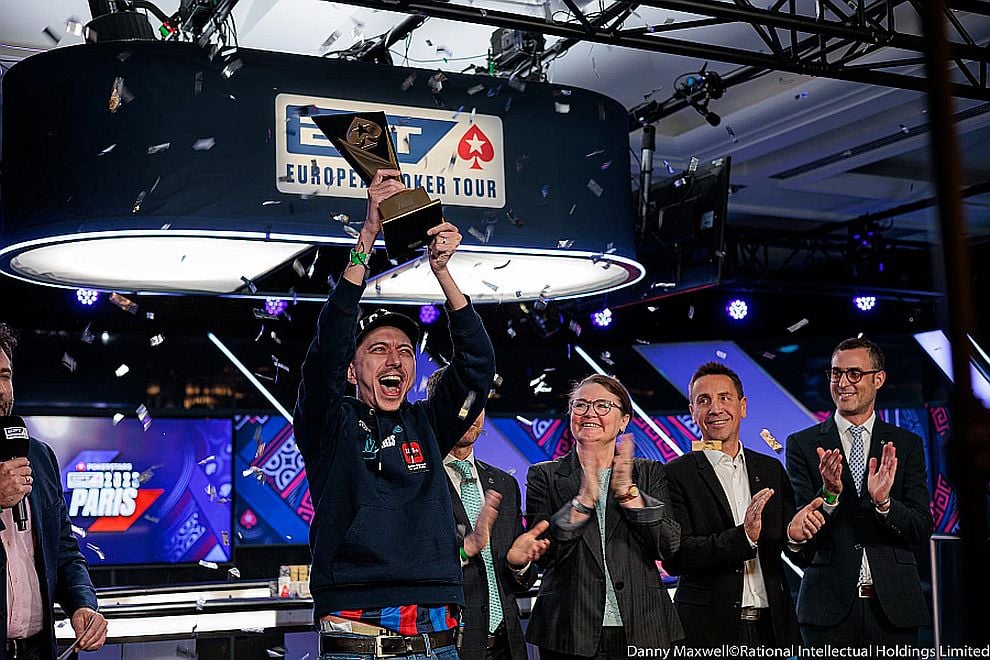 Belea won his seat at the tournament through a PokerStars online satellite, and the subsequent trip to Paris, France for the event was well worth it. 1,606 entries made their way to the felt for the €5,300 (US$5,593) Main Event, and it was the Romanian who outlasted them all.
It was the largest cash to date for Belea, who previously had only around $140K in live earnings after a decade on the circuit, according to The Hendon Mob. The win catapulted him into sixth place among Romanian players and outdid Dany Parlafes, who took second in the 2015 EPT Deauville. Until this weekend, that was the best finish for a Romanian player.
Belea Takes Control
Belea was unstoppable as the field continued to dwindle. Beginning with Day 4, he finished in the top spot and, on the final day, he didn't let up. He was the chip leader going in on that last day and never relinquished his position.
When the last five players sat down to determine who would be the big winner, Belea was in a comfortable spot. One solid pot after another allowed him to maintain control and send several players to the rails.
With three players, including Brian Delaney from the UK and France's Fabrice Bigot out, it came down to a heads-up battle between Belea and Peter Jorgne. The Swedish player was also looking to make history, but knew he was in a difficult situation.
Belea had a huge, two-to-one chip lead and he never let it go. On the final hand, Jorgne picked up two pair on the flop. It would have been enough for any player to believe his or her luck was about to improve.
Fate had something else in store, though. The turn gave Belea a straight, but Jorgne remained aggressive. He had a chance at making a boat on the river, which would have sunk his opponent.
However, it didn't happen. Both players drew dead on the river and the eventual winner was on top with his straight.
Thinking he had the best had with two pair, Jorgne shoved all in and Belea called. Jorgne could only moan in grief at the death of his run, utter a congratulations and collect his €780,100 (US$823,317) in prize money. Given he had only won about $26K up over five years until then, Jorgne can't complain too much.
Calling The Clock
This EPT was yet another example of the need for strict adherence to "shot clocks" in poker. After PokerStars resolved some glitches at the onset of the series, players settled into a smooth routine. However, it was disrupted on several occasions by slow play that frustrated the field.
Poker tournament organizers began introducing shot clocks – timers to force players to make a decision – a few years ago. They were responding to the antics of a few individuals who would sometimes take up to four or five minutes to make a move. They called it a "strategy;" although the other 99% of the poker world called it BS.
The EPT Main Event had to deal with its share of clock abusers, as well. One was Johan Guilbert, the French player who loves drawing attention to himself by any means necessary to feed his "Yoh Viral" social media presence.
Three times in one hand, Guilbert faced calls of abusing time to his benefit, with players at the table calling time in each case. That forced the player to react, but his actions led to discussions about the clock long after he exited in 78th place for €16,200 (US$17,097).
Poker player @YoHViral recently had the clock called on him 3 times in one hand. He won the pot but also started a controversy. What do you think?

I know the answer but want to see the percentage

Comments welcome

— Matt Savage (@SavagePoker) February 23, 2023
https://platform.twitter.com/widgets.js
Poker players, including Daniel Negreanu and Matt Berkey, have blasted Guilbert for his attempted manipulation of time. However, they should thank him. If it weren't for people like Guilbert, there would be no clock and the game would be infinitely longer.
The post European Poker Tour Main Event Has a Romanian Winner for the First Time appeared first on Casino.org.